For 2017,  we had 6 Scholarship applications – 3 of whom were very qualified.
Nicole Isabella Segal, (Westhill High School) was unanimously voted the best applicant by the Scholarship Committee and was told of her $2,000.00 Scholarship. Nicole will attend the University of Vermont and major in Forestry and minor in Wildlife & Fisheries Biology.  MaryAnn said Nicole was very overjoyed and said that she would make us proud.
MaryAnn suggested that we also award a second scholarship, and a discussion followed as to whether our current funds allowed it.  In the end, Marty motioned that the 2nd scholarship should be awarded in the amount of $1,000 despite the fact that it was more than budgeted.  Nolini seconded the motion and it was approved by the Board.
The scholarship went to Hayley Smith (Westhill AgriScience Program). Hayley will attend Eckerd College, St Petersburg, FL. and major in Marine Biology and Environmental Science.
MaryAnn said it was time she resigned as Scholarship Chair. The Board heartily thanked her for her years of passionate service and noted the good effects her hard work will have on the future.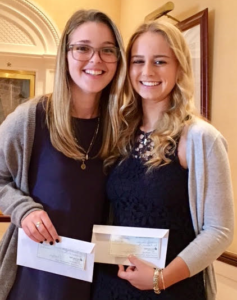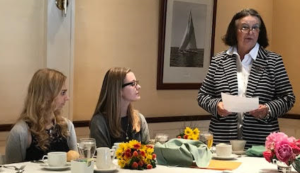 Hayley Smith, Nicole Segal, MaryAnn Greene
Nicole Segal, Hayley Smith