SPGC Designs and Educational Special Exhibits
Click on each photo to see it full size and with the caption showing the class and award.
Maureen Carson entered many horticulture specimens but unfortunately we have no pictures. See the list below for all her entries and how they placed.
Marty Cokin entered Orchid Class 20, where she won Second, Third and HM,  They are the three orchids on the right in the picture below.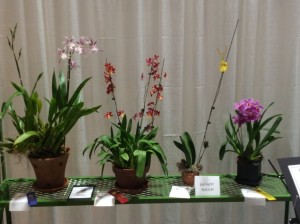 Maureen Carson's Horticulture Entries:
Succuents/cacti
Section B Class 8b Crassula argentea 2nd
Section B Class 11a Aloe marlotis 3rd
Section B Class 11b Haworthia fasciata 2nd
Section B Class 12 Euphorbia lactea crest 2nd
Forced bulbs
Section D Class 22 Narcissus jonquilla 'Sailboat' 1st
Section D Class 22 Narcissus 'Ziva' 3rd
Section D Class 25 Hippeastrum 'Naranja' 2nd
Section D Class 25 Hippeastrum 'Red Pearl' 3rd
Section D Class 25 Hippeastrum 'Dancing Queen' HM
Section D Class 26 Crocus 'Hocus Crocus" 1st
Branches/ forced
Section I Class 42c Rhododendron maxima 2nd
Section I Class 44 Corylopsis sinensis 3rd
Judges challenge
Section L Class 49a Hippeastrum 'Dancing Queen' 2nd
Section L Class 51 Lupinus perennis HM