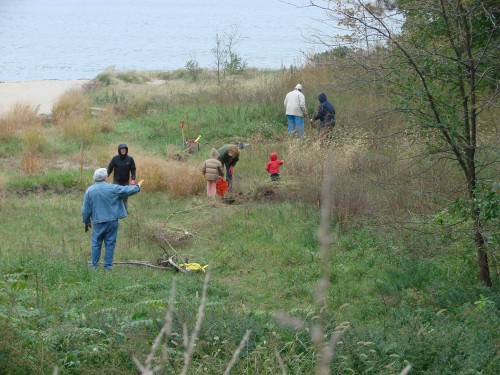 First Workday at West BeachNovember 3, 2007
Volunteers filled a five-ton dumpster provided by the city, as well as collected numerous bags of garbage and recyclables.  Approximately 115 service hours were contributed for the cleanup alone. A Cove Island Wildlife Sanctuary naturalist helped identify the invasive plants and made recommendations of native plant material to replace them. Plants were chosen that would specifically attract birds, bees and butterflies.
The initial plant list  included:
  1 Ilex opaca – female  (American holly) delivered and planted
  3 Juniperus virginiana 'Burkii'
15 Prunus maritime (beach plum)
15 Morella pennsylvanica  – female and male (bayberry)
12 Ilex verticillata  – female (winterberry)
  3 Ilex verticillata – male
  5 Viburnum dentatum
15 Rosa virginiana (or rugosa)
  5 Clethera alnifolia (dwarf)
 38 Schizachrium scoparium (little blue stem grass) plugs
38 Asclepias syriaca (butterfly weed-common) plugs
38 Coreopsis lancelata (tickseed) plugs and seed
38 Angelica venenosa seed
38 Verbena hasata (haory vervain) plugs plus seed
38 Solidago sempervirens (goldenrod) plugs plus seed
Limonium seed
The SPGC requested and received a small grant from the Principal Financial Group Civic Development "Let's Go Native" Grant Program, and the City of Stamford's Neighborhood Empowerment Grant program. SPGC provided the main funding along with its donation of design services and a pledge to maintain the site for a minimum of three years. The Club continued to maintain the site until it was returned back to the City Parks Department for maintenance in 2012.
The DART of the Stamford Advocate found us in June, 2012. Click here to read about it.